What are veneers?
Veneers are thin layers of porcelain that are placed over damaged, stained, or teeth with gaps to provide and enhance the cosmetics of a smile. The thin layer of porcelain is securely bonded to the front of your teeth. Placing white veneers requires little to no anesthesia and can help create a beautiful white smile. Porcelain veneers enhance the appearance, size, color, and shape of your tooth. Porcelain veneers can also create an even, symmetrical smile that compliments your facial features.
The Benefits of Porcelain Veneers
Protects the surface of damaged teeth
Durable, long-lasting
Conceals discoloration of your natural tooth
Achieves the ideal tooth shape or even smile
Resistant to staining and discoloration
Individually customized
What can veneers help treat?
Porcelain veneers can be used to protect a damaged or weakened tooth from further damage and to reduce the possibility of the tooth breaking. Porcelain veneers are also commonly used for when the enamel of your teeth has worn down from years of damage. Many patients opt for porcelain veneers for cosmetic reasons, such as closing spaces, lengthening and shortening uneven teeth, creating a more symmetrical smile, or creating a whiter smile.
What should I expect while undergoing a porcelain veneer treatment?
In most cases, your porcelain veneer treatment will be divided into 2 visits to our office. In the first visit, Dr. Classi will contour the enamel of your teeth and prepare them to receive white veneers. Dr. Classi will then take a digital impression of your teeth using an intraoral tooth scanner, an innovative device that takes an impression within minutes. The results from your intraoral scan will then be sent to our in-house dental lab, where your porcelain veneers will be completely customized for your individual needs.
At our in-house lab, your porcelain veneers are made to fit perfectly over your natural teeth. Dr. Classi is able to create your porcelain veneers at our in-house dental lab, allowing your veneers to be individually created for you in just 1 visit to our office. Custom shading, sizing, and shaping allows for the most natural-looking porcelain veneers. Dr. Classi will cement your porcelain veneers directly on to the surface of your teeth. Any excess cement will gently be removed. The last step of your porcelain veneer treatment is to polish the veneers for the whitest of smiles.
Do veneers require special care?
To care for your porcelain veneers is simple and includes brushing and flossing your teeth at you normally would daily. Porcelain veneers are durable and do not require any specific toothpastes or creams. After 1 week from receiving your porcelain veneers, you will return to our office for a check-up to ensure that your veneers remain securely and correctly placed. Dr. Classi will also evaluate your gum health to make sure that your teeth and gums are properly adjusting to your white veneers. After this appointment, regular dental exams, screenings, and office visits are recommended to maintain a healthy smile.
Are porcelain veneers natural-looking?
Yes, porcelain veneers are individually customized to compliment your smile. The shaping and sizing of your porcelain veneers are chosen by our team of veneer experts. We strive to provide beautiful smiles with the most natural-looking porcelain veneer results. Custom shading also allows Dr. Classi to choose the perfect color of your ceramic veneers to have the most natural look.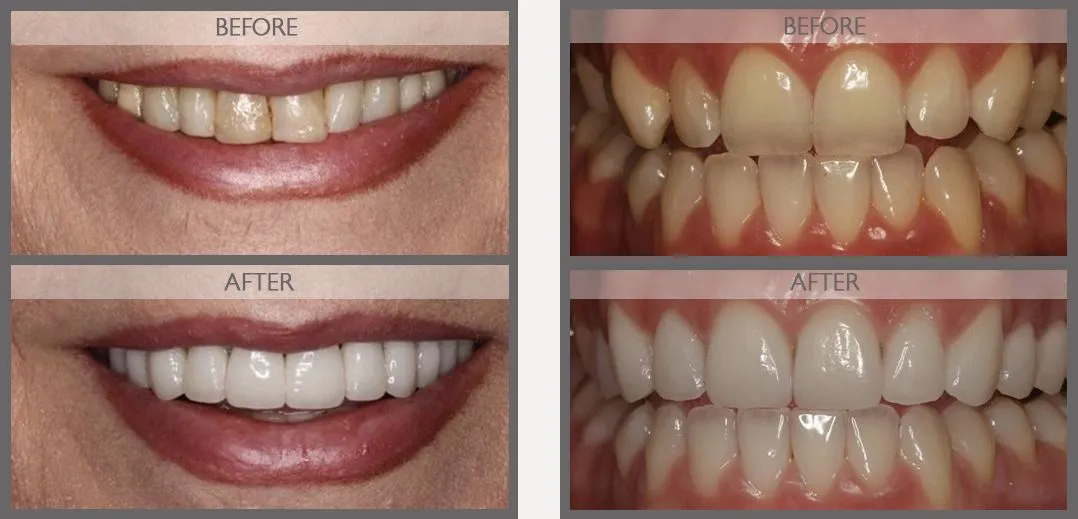 How long do porcelain veneers last?
Porcelain veneers are a long-lasting treatment that can provide you with a strong, beautiful smile for years to come. In most cases, porcelain veneers can last over 10 years before needing to be replaced. Porcelain veneers are resistant to staining and discoloration, so you can enjoy years of a gleaming white smile. A porcelain veneer is not living like your normal tooth is, so if your gum line or the positioning of your teeth change, your porcelain veneers may need to be replaced to preserve your white, natural-looking smile.
Can porcelain veneers be combined with another dental procedure?
Yes, Dr. Classi often offers porcelain veneers in conjunction with Invisalign® clear braces for a beautiful, natural-looking smile. If you wish to receive porcelain veneers, but you have overcrowding or crooked teeth, Invisalign® can be used to straighten your teeth prior to receiving veneers. Porcelain veneers create a white, even smile and can be placed before or after an Invisalign® treatment.
Does Dr. Classi offer revisional veneer treatments?
Dr. Classi is a leading expert who specializes in porcelain veneers. If you have had porcelain veneers placed by a less skilled dentist or if you have unnatural-looking veneers, Dr. Classi can remove these veneers and create a customized smile perfect for your face shape. When Dr. Classi replaces porcelain veneers, he ensures that the shape and coloring of the veneers are a perfect match for your teeth and smile. A highly respected prosthodontist in NYC, Dr. Classi can help you achieve a gleaming smile with porcelain veneers.
How can I get started with porcelain veneers in New York City?
Dr. Classi would be happy to discuss porcelain veneers with you. To learn more about porcelain veneers with Dr. Anthony Classi at Classi Smiles, please request an appointment online or call our dental office at 212.682.3313.